Crab Creek Review
Fall issue is here!
Featuring the 2017 contest winner Hannah Craig, plus work by Diane Seuss, Sonia Greenfield, Henry Israeli, Keetje Kuipers, Leyna Krow, and more!
​
Order
your copy today!
---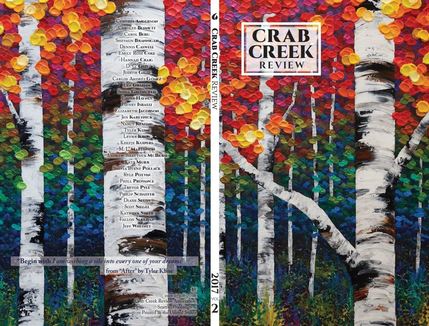 ---
Tax Deductible Donations Welcome
Please help support outstanding voices in poetry and prose by purchasing the journal or donating to Crab Creek Review. We are a registered 501(c)(3) non-profit organization that stays active in the literary arts because of the generosity of readers like you. We thank you for your support!

By Mail: If you would like to subscribe (1 year/2 issues: $15 or 2 years/4 issues: $28) or would like to make a donation, please send a check to:
Crab Creek Review
P.O. Box 1682
Kingston, WA 98346

Please include the address of the subscription recipient.

Online Ordering: We accept secure payments through PayPal. If you would like to order back issues, please select "Back Issue" from the drop down menu under Options below. Be sure to specify which year and volume number you would like on the PayPal order screen. If no issue is specified, a random issue will be selected for you. See below for descriptions of back issues.


---
Crab Creek Review Tote Bag - $20 - while supplies last!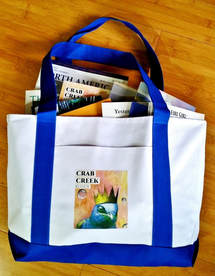 ---
---
---
---

2017 v1
"The artists were stolen / here, the painters, poets, the musicians / scribbling librettos in the dark."
from "The Pear Trees at Terezin" by Jennifer K. Sweeney

The spring 2017 issue includes work by Lola Haskins, Tom C. Hunley, Eve Kenneally, Sanam Mahloudji, Brooke Matson, Shankar Narayan, Lisa Richter, Michael Schmeltzer, Nate Stein, Jennifer K. Sweeney, Lynne Thompson, Lena Khalaf Tuffaha, and many more.
---
---
2016 v2

The fall issue includes Connie Post's winning entry in the 2016 Crab Creek Review Poetry Prize. Also featured in this issue are the three Poetry Prize finalists' entries and our favorites from this issue's reading period of submissions.
​
---
---

2016 v1

2016 v1 includes works by Stacey Balkun, Robert Feins, Matthew B. Harrison, Sharma Shields, and in total, 41 writers whose works shine throughout the pages of this issue.
​
---
---

2015 v2

"Reader, you likely are apprehensive about what will happen next." From "At this juncture I will pick up some debris," by Toni Hanner. Other featured works are by Erika Brumett, Scott Kinder-Pyle, Tammy Robacker, Elizabeth Vignali, and many more fine writers.
​
---
---

2015 v1

2015 v1 includes poems by Sylvia Pollack, Michael Lauchlan, Andrew Cox, Michael Walsh, Kathleen Boyle, and many other fine poets. Works of fiction by Erica Verillo, Timothy Schirmer and Greg November are also featured.

---
---

2014 v2

2014 v2, the "owl issue", features the 2014 Crab Creek Review Prize winner and finalists, with poems by Meg Scott Copses, Greg Jensen, Tammy Robacker, Linwood Rumney, Derek Sheffield, Joannie Stangeland, Molly Tenenbaum and more. It also includes an interview with National Poetry Series awardee Sarah Vap.

---

2014 v1

Poems by Francesca Bell, Wyn Cooper, Tom C. Hunley, Kasey Jued, Tina Kelley, Diane Seuss, Idrissa Simmonds, Cody Walker, and many others. Fiction by Helen Ellis & Corie Rosen, and nonfiction by Jessica Bryant Klagmann & Suzanne Farrell Smith. Wyn Cooper on poetry, music, and lyric collaboration with Madison Smartt Bell.

"... and I realize that each of us is just a little breath, / that this yellow school bus is a canary / sent deep into the mines." --from "Otto Mann, Intrepid Bus Driver" by Tom C. Hunley


---

2013 v2

30th Anniversary issue featuring Pacific Northwest poets, including Elizabeth Austen, James Bertolino, Oliver de la Paz, Kate Lebo, Frances McCue, Nancy Pagh, Peter Pereira, Susan Rich, Megan Snyder-Camp, Molly Tennenbaum, and many others.


---

2013 v1

Poems by Judith Barrington, Matthew Guenette, Greg Nicholl, Anna Scotti, Judith Skillman, & others. Fiction by Landon Houle & Brandi Wells, and nonfiction by Sayantani Dasgupta. Interviews with Stephen Dunn and Natasha Sajé.

I believe the sun is out there on the other side / of this darkness. I believe it still burns. —from "Still" by Derek Annis


---

2012 v2

Poems by Jenna Le, Kim-An Lieberman, Al Maginnes, Rachel Mennies, David Ray, Doug Sutton-Ramspeck, & others. Fiction by Rita Hypnarowski & Jenny Smick, and nonfiction by Rochelle Spencer. Kathleen Flenniken on introducing children to poetry, the work of a poet laureate, and facing the blank page.

Ghosts, if you're listening, get the hell out. / Go to the light. —from "Semi-Automatic Confessional" by Bruce Cain


---

2012 v1
SOLD OUT
Poems by Rebecca Foust, Tina Kelley, Dana Levin, Kevin Miller, Megan Snyder-Camp, John Willson, Maya Zeller, & others. Fiction by Roger Sheffer & Dan Moreau, and nonfiction by Justin Wadland. Interview with Dana Levin.

Maybe it's better there. Maybe the moon / isn't sticking its nose into every other / sentence, reminding you what's gone. —from "Divorce on Mars" by Francine Witte


---

2011 v2

Poems by Nin Andrews, Karina Borowicz, Susan J. Erickson, Joseph O. Legaspi, Mark Wagenaar

Fiction by Lauren Fink & Mary Elizabeth Pope. Interview with Nin Andrews on humor and mystery, and emailing the muse.

Did you see the full moon last week, orange-blooded / & beautiful? Did you wonder what hour it begins to lose / slivers of itself to shadow? --from "A Letter Home" by Mark Wagenaar


---

2011 v1

Featuring poems by Cameron Aveson, Dorianne Laux, Tina Schumann, Jeanne Wagner, & others. With fiction by Hal Ackerman, Mary Julia Klimenko & Mabel Yu. Mark Doty on inspiration, grief, writing, dogs, and being an "American" poet.

Tell me where is night now / and those dead stars that nursed us? —from "Email to Emily" by Mark DeCarteret


---
---
Bookstores That Stock Crab Creek Review: